Bad Luck for "Ben"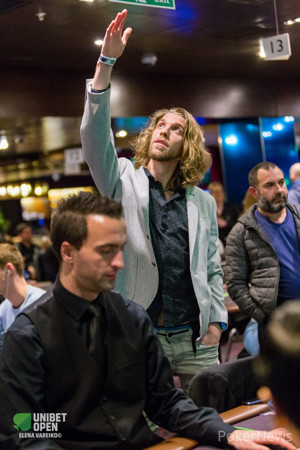 Rauno "Ben" Tahvonen stepped into the limelight at the Unibet Open London, where he made a deep run and finished in sixth place. With his positive antics, the 26-year-old Estonian skateboard instructor – affectionally called the "Estonian Jesus" – quickly became a crowd favorite and had the Twitch chat rooting for him.
Here in Copenhagen, Tahvonen quickly found himself in an all-in situation against Zoltan Bozoki. Tahvonen had defended his big blind and check-raised to 2,100 on an :::Ah:::5d:::2h flop. Bozoki three-bet to 6,900 and called off his stack of 20,000 when Tahvonen shoved.
Rauno Tahvonen: :::4s:::3d
Zoltan Bozoki: :::Kh:::Qh
Tahvonen had flopped the wheel and needed to evade the hearts to knock out Bozoki. The turn :::9h improved Bozoki to a flush, making the :::8s river meaningless. Tahvonen was forced to fork over a sizable portion of his stack to his Hungarian adversary.
| | | |
| --- | --- | --- |
| Zoltan Bozoki | 45,000 | |
| Rauno Tahvonen | 25,000 | -5,000 |