False Start for Ioana Silvana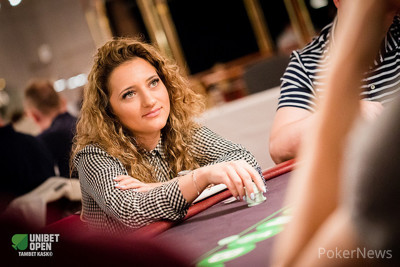 Peter Harkes raised to 5,300 in early position, Norbert Laszlo called, Ioana Silvana called and Silviu Nemes defended the big blind. The flop was :::6c:::6h:::2s and everyone checked to Silvana. The Romanian bet 13,000, Nemes and Harkes folded and Laszlo called.
Laszlo checked the :::3s on the turn, Silvana shoved all in and Laszlo called his remaining 47,200 off.
Ioana Silvana: :::9s:::7s
Norbert Laszlo: :::Ks:::Kd
Laszlo's disguised kings held up after the :::9h river and he scored an early double.
| | | |
| --- | --- | --- |
| Norbert Laszlo | 152,000 | 84,900 |
| Ioana Silvana | 150,000 | -27,900 |