Jorstad Doubles; Manolea Busts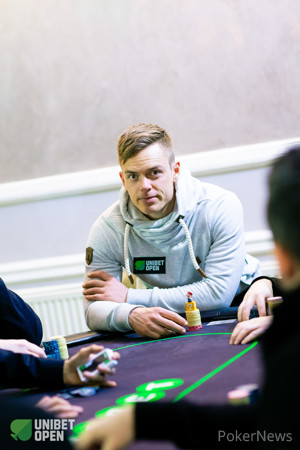 Maxime Canevet had been down to 45,000 and appeared among the recent casualties a few minutes prior to the dinner break, while Evangelos Bechrakis continued his rise on Day 2.
Further players to run out of chips include Ioan Taizs, Eduard Norel, Markus Heikkila and Luciana Manolea, while Espen Uhlen Jorstad doubled.
Jorstad had jammed out of the big blind with :::As:::Jd and Carmen Zainescu in the small blind called with :::5x:::4x after prior action on the table already. The board came :::Kd:::Qh:::Qs:::Qd:::6s and the ace-high was good enough for the Unibet Poker ambassador.
At almost the same time, Andrei Jambor had tabled the winning hand with :::Ad:::Jd one table over on the river of a board :::Jh:::6s:::6c:::8c:::5s and Manolea mucked her cards before leaving the tournament area.
| | | |
| --- | --- | --- |
| Evangelos Bechrakis | 420,000 | 95,000 |
| Andrei Jambor | 130,000 | 80,000 |
| Carmen Zainescu | 95,000 | -10,000 |
| Espen Uhlen Jorstad | 85,000 | 45,000 |
| Luciana Manolea | 0 | -50,000 |
| Eugen Chiva | 0 | -23,100 |
| Gheorghe Androne | 0 | -81,000 |
| Markus Heikkila | 0 | -105,000 |
| Antti Salmela | 0 | -49,900 |
| Timo Vogt | 0 | -39,800 |
| Maxime Canevet | 0 | -123,000 |
| Ioan Taizs | 0 | -76,600 |
| Eduard Norel | 0 | -74,600 |