Three Former Champions in Contention on Day 3 of the 2019 Unibet Open Sinaia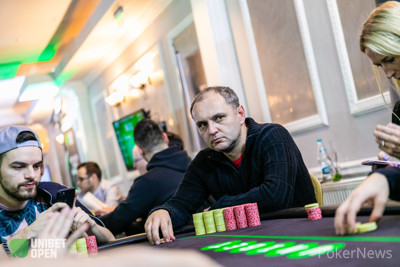 After an extensive bubble period at the end of Day 2, the 2019 Unibet Open Sinaia €1,100 Main Event special ski-edition has seen a field of 366 whittled down to the last 47 hopefuls at the New Montana Hotel and all of them are guaranteed at least €2,085 for their efforts. All eyes are set on the top prize of €71,000 and the bragging rights that come along with it, and three former champions remain in contention.
Leading the field into Day 3 is Razvan Sabau with 741,000, closely followed by Ran Shahar (735,000) and Cristian Grecu (711,000). Further notables with big stacks include Silviu Baltateanu (612,000), Oerjahn Winther (481,000), Gilles Huet (343,000) and Jean-Serge Baril (318,000). Evangelos Bechrakis (228,000), Aku Joentausta (172,000) and Toni Judet (172,000) are also in the mix.
Team Unibet will be represented by the ambassadors Espen Uhlen Jorstad (240,000), Dan Murariu (132,000), Daiva Byrne (23,000), Dara O'Kearney (3,000) as well as popular streamer Alan "Hotted89" Widmann (72,000). Murariu, who triumphed in Varna in 2010 and Sint Maarten in 2012, is one of three former Unibet Open winners in contention. Traian Bostan (330,000) emerged victorious on home soil in Bucharest in 2016 and 2013 Malta champion Martin Soukup (227,000) will also aim to add a second title to his poker resume.
Day 3 will kick off at 3 p.m. local time with blinds of 4,000/8,000 and a big blind ante of 8,000. Due to the longer bubble in the early morning hours, the early action is expected to be fast-paced and the penultimate tournament day aims to reduce the field to the final table for the big showdown on Sunday.
Three other Side Events will run throughout the day with Alexandre Reard leading the field into Day 2 of the €2,200 High Roller, the start of the €550 DeepStack Open Cup and the €80+10 QUEENSRULES Ladies Event hosted by Daiva Byrne.
As usual, the PokerNews team will be on the floor to cover all the Main Event action and the live stream on the Unibet Poker Twitch channel runs on a security delay of 30 minutes with hole cards displayed.
Main Event Day 3 Seat Draw
| Table | Seat | Player | Country | Chip Count | Big Blinds |
| --- | --- | --- | --- | --- | --- |
| 5 | 1 | Iulian Tataru | Romania | 121,000 | 15 |
| 5 | 2 | Corentin Ropert | France | 84,000 | 11 |
| 5 | 3 | Evangelos Bechrakis | Greece | 228,000 | 29 |
| 5 | 4 | Gilles Huet | France | 343,000 | 43 |
| 5 | 5 | Cristian Grecu | Romania | 711,000 | 89 |
| 5 | 6 | Tomas Ksenevicius | Lithuania | 91,000 | 11 |
| 5 | 7 | Dan Murariu | Romania | 132,000 | 17 |
| 5 | 8 | Ran Shahar | Israel | 735,000 | 92 |
| | | | | | |
| 6 | 1 | Steven Vollers | Netherlands | 532,000 | 67 |
| 6 | 2 | Silviu Baltateanu | Romania | 612,000 | 77 |
| 6 | 3 | Sorin Radulescu | Romania | 114,000 | 14 |
| 6 | 4 | Padraig O'Neill | Ireland | 33,000 | 4 |
| 6 | 5 | Dmitrii Prusov | Russia | 203,000 | 25 |
| 6 | 6 | Nicolae Suciu | Romania | 162,000 | 20 |
| 6 | 7 | Solomon Stan | Romania | 120,000 | 15 |
| 6 | 8 | Espen Uhlen Jorstad | Norway | 240,000 | 30 |
| | | | | | |
| 7 | 1 | Alan Widmann | Germany | 72,000 | 9 |
| 7 | 2 | Daiva Byrne | Lithuania | 23,000 | 3 |
| 7 | 3 | Pavel Alexandru | Romania | 125,000 | 16 |
| 7 | 4 | Eirik Lunde | Norway | 77,000 | 10 |
| 7 | 5 | Dara O'Kearney | Ireland | 3,000 | 0 |
| 7 | 6 | Adrian-Sorel State | Romania | 100,000 | 13 |
| 7 | 7 | Mihnea Potcoava | Romania | 258,000 | 32 |
| 7 | 8 | Aku Joentausta | Finland | 172,000 | 22 |
| | | | | | |
| 8 | 1 | Andrei Dobrescu | Romania | 26,000 | 3 |
| 8 | 2 | Toni Judet | Romania | 169,000 | 21 |
| 8 | 3 | Nikolay Ponomarev | United Kingdom | 63,000 | 8 |
| 8 | 4 | Dan Petrea | Romania | 181,000 | 23 |
| 8 | 5 | Marius Gicovanu | Romania | 134,000 | 17 |
| 8 | 6 | Antti Tiainen | Finland | 108,000 | 14 |
| 8 | 7 | Traian Bostan | Romania | 330,000 | 41 |
| 8 | 8 | Tudor Bartha Lazar | Romania | 214,000 | 27 |
| | | | | | |
| 12 | 1 | Denis Simionel | Moldova | 265,000 | 33 |
| 12 | 2 | Tomas Montrimas | Lithuania | 76,000 | 10 |
| 12 | 3 | Catalin Moraru | Romania | 106,000 | 13 |
| 12 | 4 | Bogdan Sovaiala | Romania | 225,000 | 28 |
| 12 | 6 | Oerjahn Winther | Sweden | 481,000 | 60 |
| 12 | 7 | Jean-Serge Baril | Canada | 318,000 | 40 |
| 12 | 8 | Martin Soukup | Czech Republic | 227,000 | 28 |
| | | | | | |
| 13 | 1 | Stefan Drusca | Romania | 589,000 | 74 |
| 13 | 2 | Johannes Vaeisaenen | Finland | 275,000 | 34 |
| 13 | 3 | Iulian Bleau | Romania | 136,000 | 17 |
| 13 | 4 | Alexandru Palievici | Romania | 146,000 | 18 |
| 13 | 5 | Lennaert Joostens | Romania | 106,000 | 13 |
| 13 | 6 | Razvan Sabau | Romania | 741,000 | 93 |
| 13 | 7 | Razvan Bizera | Romania | 642,000 | 80 |
| 13 | 8 | Marc Wilkens | Netherlands | 231,000 | 29 |