Winner of Unibet Open Dublin to get €64,110
The winner of Unibet Open Dublin will get €64,110 after the event attracted 294 entries creating a total prize pool of €294,000. A total of 39 players will get paid with a min-cash worth €2,100.
Day 2 kicked off today with 107 players including Dublin-based Londoner Max Silver, who had bagged up a top 10 stack of 213,000. There are now around 47 players left with Scottish star Niall Farrell the current chip leader. Also still in the running are Unibet Ambassadors Espen Jorstad and Jorma Vuoksenmaa, John Dwyer, who won last week's European Deepstacks Championship, Day 2 chip leader Weijie Zheng, Mark Muldoon, Jamie Nixon, Jack Hardcastle, Chris Dowling, Alex Hendriks, who qualified on Unibet Poker, and Henrik Tellving, who was 12th at the last Unibet Open in Paris in December.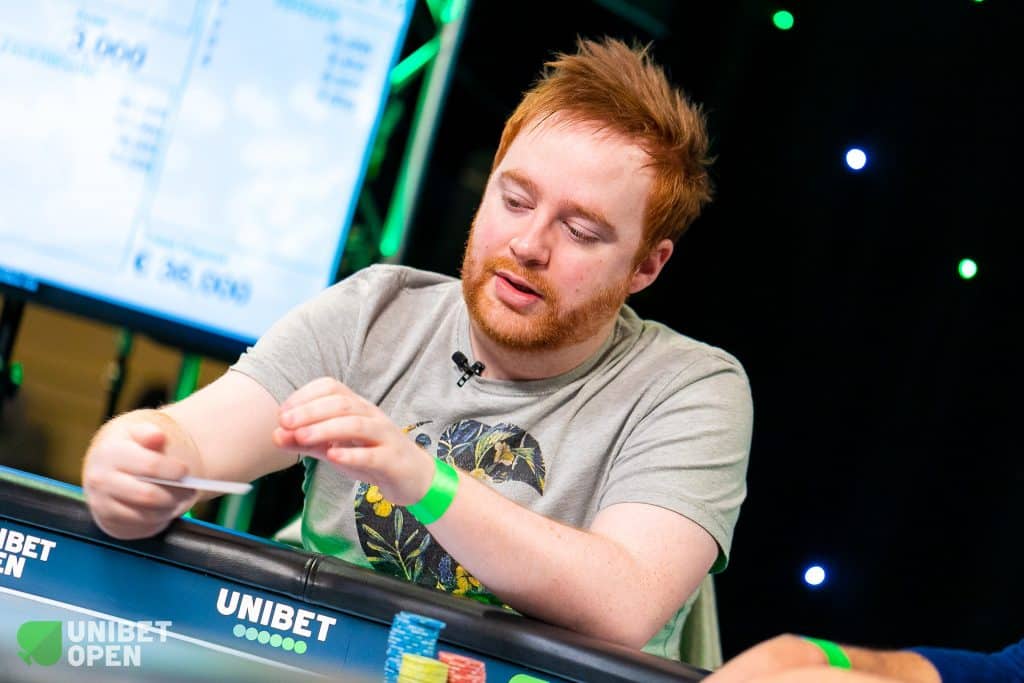 Other players who made Day 2 but were eliminated before making the money include ACOP champ Andy Black, John Gough, two-time champion Mateusz Moolhuizen, Unibet Ambassadors Monika Vaka, Alexandre Reard and Dara O'Kearney, John Hanaphy, Dex de Jong, Ludovic Geilich and Dara Davey.
Good news for those who are out of the Dublin Main Event is that the second stop of the Unibet Open 2020 season has just been announced – a five-day festival in Tallinn in May. This will be Unibet Open's second visit to Estonia's beautiful capital and satellites are already underway on Unibet Poker. The event is taking place May 20-24 and being hosted by Olympic Park Casino. Tallinn is one of Europe's most gorgeous cities -the entire walled Old Town is a UNESCO World Heritage site and the city centre is packed with great restaurants, bars, shops, museums and galleries. Click here for more details.
Unibet Open Dublin 2020, which started on Wednesday, is the first stop of the Unibet Open 2020 tour and follows hot on the heels of the Unibet-sponsored Dublin Poker Festival which was also held at the Bonnington. The first-ever combination of the two festivals has provided players with the opportunity to enjoy a real poker holiday in Dublin with two major events taking place back-to-back.
Dublin side event results
Unibet Battle Royale: The first event to be live-streamed from Dublin was the invitational €3k Unibet Battle Royale. Unibet special guest, the Swedish high-stakes poker legend Viktor "Isildur1" Blom, scooped the €1,500 top prize after seeing off competition from a raft of Unibet Ambassadors and other well-known players. Unibet Ambassador and stream commentator David Vanderheyden was runner-up, with Norway's Espen Jorstead finishing third.
Unibet Open-er: Following a super satellite for the Main Event on Tuesday, the Unibet Open Dublin festival really got under way on Wednesday with the introduction of a brand-new event – the €225 single re-entry "Unibet Open-er". The Open-er was intended to be a two-day affair and attracted 68 entries. However, play progressed so quickly that it was all wrapped up the same day. Alex Kulev took the €3,725 top prize after beating Ylva Thorsud heads-up. All nine finalists made the money including two-time Unibet champ Mateusz Moolhuizen who finished fifth for €1,050.
€165 NLH Turbo: Swedish player Filip Holmqvist won the first turbo event of the festival, a €165 NLH Turbo held on Thursday. He snagged €2,790 after beating Jamie Nixon heads-up. Unibet Ambassador David Lappin logged a min-cash and finished seventh for €420.
€110 NLH Hyper Turbo: Belgium's Bart Vanpee won Friday's late night €110 NLH Hyper Turbo. A total of 20 players turned out for the freezeout event, playing 10 minute levels with a start stack of 10,000. The €2,000 prize pool paid out four players with Vanpee taking down the top prize of €850.
€2,200 High Roller: Ireland's Tarek Qunber Qunber won the €2,200 High Roller for €11,170 after a three-way deal with Scottish star Niall Farrell and Robbie Toan. Farrell and Toan each became €10,000 richer while Dublin-based Londoner Max Silver finished fourth for €4,830.
There were 13 entries in today's €90 #QueenRules Ladies Event Still in the running for the €500 top prize are media influencer Dehlia de Jong plus Unibet Ambassadors Charlotte Van Brabander and Monica Vaka. The €165 Pot Limit Omaha event attracted 40 entries creating a €6,000 prize pool.
The final day tomorrow – Sunday, March 1 – will be action-packed with the Main Event playing down to a champion alongside a €100 + €100 + €20 Progressive Knockout tournament and another brand-new event – the €100 + €10 "Mini ME". This single re-entry tournament will mirror the Main Event with all players receiving a generous 30,000 starting stack.
Around 100 players won their seat or full prize package on Unibet Poker. The €2,000 prize package included Main Event buy-in, Unibet merchandise and four nights' accommodation at the Bonnington Hotel for themselves and a guest.
Live Stream & Social Media
Unibet Ambassador David Vanderheyden and co-host Henry Kilbane are on air right now, covering Day 2 of the Main Event. Fans can follow the action on the Unibet Open website, Twitch, youtube and facebook with live updates on PokerNews. Unibet Open is also on Facebook, Twitter  and Flickr.
Off the felt
Tonight's action also includes a real treat for those not involved in a tournament – the Unibet Open Players Party – which is being held at Krystle, Dublin's top nightclub.
Unibet Open Dublin history
Unibet Open Dublin marks the tour's third visit to the Irish capital. The last Unibet Open in Dublin was held in 2018 with nearly €600,000 awarded in prize money across the whole festival, and 1,500 total entries. British player Paul Jux-Holderness won €74,900 after beating a 359-strong field in the Main Event with 47 players paid from the €359,000 prize pool. Jux-Holderness, who hails from Bournemouth, also finished third in the €2,200 High Roller for a further €8,860.
The first Unibet Open Dublin was in 2011 when English poker pro Paul Vas Nunes took down the Main Event for €105,300 after besting a field of 260 players. It was one of Nunes' earliest recorded cashes and he has since won more than $1.7 million at live poker tournaments.
About the Unibet Open
The Unibet Open is the hottest live poker tournament circuit in Europe, with ever-growing numbers of players from amateurs to professionals battling for six-figure prize pools in some of the continent's most glamorous locations. Since 2007, the Unibet Open has been synonymous with a great poker experience – not only running the best tournaments with the Main Event regularly selling out above cap, but also taking advantage of amazing locations and making sure that every Unibet Open player has the time of their life.