2016 Unibet Open Bucharest: Gabriel Gavrila Tops Day 1b; Joni Liimatta with Top 10 Stack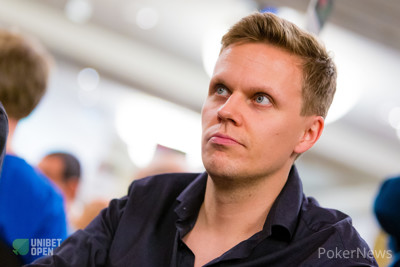 It was indeed a record-breaking day at the Unibet Open Bucharest festival at the JW Marriott Bucharest Grand Hotel, as once again the Grand Ballroom was bursting with all tables being used for Day 1b of the €1,100 Main Event as well as High Roller Satellite and a €220 Turbo Bounty Event.
After the registration had closed, a massive field of 367 entrants took part on Day 1b to boost the overall attendance to 603 participants, shattering the previous record of 460 entries to create a prize pool of €584,910. The payouts will be announced when the action resumes as of 12 p.m. local time for Day 2 and 156 hopefuls are still in contention.
After 63 players had bagged up on Day 1a, another 93 made it through today and local player Gabriel Gavrila amassed a monster stack of 432,000. He is followed by Alexandre de Zutter, who consistently built his stack over on table one and even cracked the aces of Mihai Manole with ace-king to bag up 382,000. Dan Ionut Hila follows in third place with 291,500 while other big stacks include Eugen Chiva (267,000), EPT12 Grand Final €25,750 High Roller champion Alexandru Papazian (232,500) and Jozsef Liszkovics (219,000).
Joni Liimatta also made it into the top 10 after the second starting day and the Finn is on track to possibly win back-to-back Unibet Open titles after already emerging victorious in Copenhagen just a few months ago. Liimatta was a big stack throughout the day and will return for Day 2 with very healthy 236,000. Other notables advancing from Day 1b were James Mitchell (174,000), Jeroen van Belzen (168,000), Martin Wendt (165,600), Jessy Marillaud (132,000), Nicolay Langfeldt (111,500), Dehlia de Jong (97,000) and Quentin Lecomte (69,500).
Plenty of other familiar faces of the international poker circuit took the felt as well but failed to bag up chips. Ian Simpson joined the rail in the first two levels already and two-time Unibet Open champion Mateusz Moolhuizen doubled two shorter stacks after coming back from dinner before getting the remaining five big blinds in with queen-four suited, Andrei One dealt the final blow with ace-king.
Gaelle Garcia Diaz had a kicker problem with ace-ten versus ace-king and Peter Harkes shoved with pocket aces into a straight to join the rail as well. Florin Ionut Ilies had a huge double early on with quads sevens, but ran out of chips on the same table as de Zutter. Daiva Barauskaite's ace-jack faced the isolation of Apostolos Bechrakis with jack-eight suited and the Greek made a runner runner flush over on the feature table, while popular Irishmen Gary Clarke, David Lappin and Dara "Doke" O'Kearney were all eliminated as well.
In the last few hands of the night, former big stack Yossef Shmuel Shmerling got it in with ace-queen against ace-jack on a jack-high flop and failed to improve. Andrei One joined the rail in spectacular fashion after bluffing off his chips with queen-four suited and a busted gutshot, Erno Suominen looked him up with ace-deuce suited for aces and sixes.
When all was said and done for the night, the 93 survivors bagged up and will be back for level 12 and blinds of 1,500-3,000 with a running ante of 500. Another eleven levels of 60 minutes each are scheduled for Day 2 to cut down the hopefuls considerably, about half of the remaining players are expected to cash in the Main Event. Saturday will also feature Day 1 of the single re-entry €2,200 High Roller as well and today's Satellite gave away six entries, the tournament kicks off at 4 p.m. local time.
Make sure to follow the PokerNews live updates to find out who makes history at the record-breaking inaugural Unibet Open this weekend in Bucharest!
Main Event Seat Draw Day 2
| Table | Seat | Player | Country | Chip Count |
| --- | --- | --- | --- | --- |
| 1 | 1 | Asbjorn Elvevold | Norway | 132,500 |
| 1 | 2 | Stefan Razvan Magda | Romania | 35,000 |
| 1 | 3 | Nuno Miguel Carvalho | Portugal | 135,000 |
| 1 | 4 | Traian Bostan | Romania | 157,000 |
| 1 | 5 | Bogdan Diaconu | Romania | 129,500 |
| 1 | 6 | David Tobi | Israel | 152,500 |
| 1 | 7 | Georgios Angelos Tavoularis | Greece | 215,000 |
| 1 | 8 | Romain Grange | France | 59,000 |
| 1 | 9 | Florin Pandilica | Romania | 40,000 |
|   |   |   |   |   |
| 2 | 1 | Anthony Mitchell Duane | USA | 186,500 |
| 2 | 2 | Farook Ghafoor | Sweden | 94,500 |
| 2 | 3 | Sorin Irinel Lica | Romania | 167,500 |
| 2 | 4 | Cezar Catalin Chivulescu | Romania | 71,500 |
| 2 | 5 | Eszter Fabian | Hungary | 28,000 |
| 2 | 6 | Alexandru Sautner | Romania | 186,500 |
| 2 | 7 | Gabor Bank | Hungary | 75,000 |
| 2 | 8 | Mark Rink | Netherlands | 65,000 |
| 2 | 9 | Vasile Claudiu Sabou | Romania | 135,000 |
|   |   |   |   |   |
| 3 | 1 | Moti Merdler | Israel | 38,000 |
| 3 | 2 | Constantin Daniel Georgescu | Romania | 118,500 |
| 3 | 3 | Roi Koko | Israel | 122,500 |
| 3 | 4 | Tillmann Meier | Germany | 55,000 |
| 3 | 5 | Avi Hamo | Israel | 119,500 |
| 3 | 6 | Mihai Sebastian Parnica | Romania | 102,000 |
| 3 | 7 | William Hens | Netherlands | 285,000 |
| 3 | 8 | Nicolay Langfeldt | Norway | 111,500 |
| 3 | 9 | Solomon Stan | Romania | 34,000 |
|   |   |   |   |   |
| 4 | 1 | Viliyan Petleshkov | Bulgaria | 50,000 |
| 4 | 2 | Martin Wendt | Denmark | 165,500 |
| 4 | 3 | Gur Sabag | Israel | 44,500 |
| 4 | 4 | Jonathan Spicer | United Kingdom | 115,000 |
| 4 | 5 | Alexandru Papazian | Romania | 232,500 |
| 4 | 6 | Virgil Grecu | Romania | 42,500 |
| 4 | 7 | Florin Carmil Rusu | Romania | 213,000 |
| 4 | 8 | Iustin Cojocaru | Romania | 113,000 |
| 4 | 9 | Gabriel Gavrila | Romania | 432,000 |
|   |   |   |   |   |
| 5 | 1 | Luciana Manolea | Romania | 100,000 |
| 5 | 2 | Quentin Lecomte | France | 69,500 |
| 5 | 3 | Constantin Cosmin | Romania | 180,500 |
| 5 | 4 | Roei Motola | Israel | 186,500 |
| 5 | 5 | Zoltan Boszormenyi | Hungary | 93,500 |
| 5 | 6 | Razvan Florian Stircu | Romania | 58,000 |
| 5 | 7 | Ozgur Arda | Turkey | 110,000 |
| 5 | 8 | Ilan Buskila | Israel | 81,000 |
| 5 | 9 | Aurellian Nicusor Chirieci | Romania | 78,500 |
|   |   |   |   |   |
| 6 | 1 | Marius Asanache | Romania | 144,500 |
| 6 | 2 | Ionut-Alin Tambura | Romania | 191,000 |
| 6 | 3 | Bogdan Petrascu | Romania | 105,000 |
| 6 | 4 | Alexandros Papadopolos | Greece | 115,000 |
| 6 | 5 | Jakob Linden | Sweden | 287,000 |
| 6 | 6 | Daniel Wittikko | Sweden | 67,500 |
| 6 | 7 | Dan Glimne | Sweden | 59,000 |
| 6 | 8 | Akseli Paalanen | Finland | 35,000 |
| 6 | 9 | Cristian Dan | Romania | 77,500 |
|   |   |   |   |   |
| 7 | 1 | George Damian | Romania | 70,000 |
| 7 | 2 | Gert Bransteert | Belgium | 108,500 |
| 7 | 3 | Jeroen van Belzen | Netherlands | 168,000 |
| 7 | 4 | Cristian Cirtog | Romania | 134,000 |
| 7 | 5 | Dan Murariu | Romania | 160,000 |
| 7 | 6 | Lucian Tofan | Romania | 30,500 |
| 7 | 7 | Radu Lungu | Romania | 38,500 |
| 7 | 8 | Cristian Mihai Taran | Romania | 21,000 |
| 7 | 9 | Mate Mecs | Hungary | 84,500 |
|   |   |   |   |   |
| 8 | 1 | Jussi Perlinen | Finland | 136,500 |
| 8 | 2 | Ronnie Espensen | Denmark | 38,500 |
| 8 | 3 | Lachezar Petkov | Bulgaria | 33,000 |
| 8 | 4 | Constantin Florin Bitan | Romania | 155,000 |
| 8 | 5 | Yosef Boker | Israel | 79,500 |
| 8 | 6 | Andrei Boghean | Romania | 135,000 |
| 8 | 7 | Ovidiu Florian Ciuciuc | Romania | 119,000 |
| 8 | 8 | Iulian Bogdan Nastase | Romania | 97,500 |
| 8 | 9 | Avi Osezikli | Israel | 79,500 |
|   |   |   |   |   |
| 9 | 1 | Ioana Silvana Apostol | Romania | 47,000 |
| 9 | 2 | Nasser Khelifi | France | 64,000 |
| 9 | 3 | Gusti Adrian Sas | Romania | 44,500 |
| 9 | 4 | Viorel Chelariu | Romania | 65,500 |
| 9 | 5 | Bart Francois | Netherlands | 121,000 |
| 9 | 6 | Cristian Tardea | Romania | 56,000 |
| 9 | 7 | Ovidiu Roman | Romania | 42,500 |
| 9 | 8 | Kobi Maymon | Israel | 119,500 |
| 9 | 9 | Eugen Chiva | Romania | 267,000 |
|   |   |   |   |   |
| 10 | 1 | Dejan Govedi | Slovenia | 269,000 |
| 10 | 2 | Vasile Paul Plastoi | Romania | 190,000 |
| 10 | 3 | Henri Vaisanen | Finland | 284,000 |
| 10 | 4 | Sebastiaan Uijtendaal | Netherlands | 73,500 |
| 10 | 5 | Anton Haeggblom | Finland | 121,000 |
| 10 | 6 | Jozsef Liszkovics | Hungary | 219,000 |
| 10 | 7 | Razvan Lucian Cetanas | Romania | 69,500 |
| 10 | 8 | Markus Heikkila | Sweden | 322,000 |
| 10 | 9 | Kiarash Nabavieh | Belgium | 107,500 |
|   |   |   |   |   |
| 11 | 1 | Joni Liimatta | Finland | 236,000 |
| 11 | 2 | Aldo Monteleone | Italy | 232,500 |
| 11 | 3 | Sidi-Mohamed Nouar | France | 227,000 |
| 11 | 4 | Omer Azulay | Israel | 38,500 |
| 11 | 5 | Gheorghe Caplescu | Romania | 202,000 |
| 11 | 6 | Niculae Eremia | Romania | 138,000 |
| 11 | 7 | Doron Shako | USA | 123,500 |
| 11 | 8 | Erno Suominen | Finland | 212,500 |
| 11 | 9 | Cosmin Ionut Petcu | Romania | 151,000 |
|   |   |   |   |   |
| 12 | 1 | George Adrian Stanescu | Romania | 99,000 |
| 12 | 2 | Daniel Sochanek | Sweden | 186,000 |
| 12 | 3 | Laurentiu Florin Dumitru | Romania | 85,000 |
| 12 | 4 | Catalin Morariu | Romania | 101,500 |
| 12 | 5 | Martin Klejna | Czech Republic | 107,000 |
| 12 | 6 | Jessy Marillaud | France | 132,000 |
| 12 | 7 | Andreas Hagen | Norway | 42,500 |
| 12 | 8 | Cosmin Cimpeanu | Romania | 102,000 |
| 12 | 9 | Juho Launonen | Finland | 62,500 |
|   |   |   |   |   |
| 13 | 1 | Elvis Petcu | Romania | 135,500 |
| 13 | 3 | Leon Mihai Ani | Romania | 83,000 |
| 13 | 4 | Barnabas Nagy | Hungary | 66,500 |
| 13 | 5 | Denis Adamskii | Russia | 23,500 |
| 13 | 6 | Jakub Groblewski | Poland | 43,000 |
| 13 | 7 | Avi Zur | Israel | 44,000 |
| 13 | 8 | Slaven Popov | Bulgaria | 75,500 |
| 13 | 9 | Eero Lehtinen | Finland | 50,500 |
|   |   |   |   |   |
| 14 | 1 | Shilo Jerusalem | Israel | 81,000 |
| 14 | 2 | Adrian Stefan Calusaru | Romania | 62,500 |
| 14 | 3 | Asaf Goldfeld | Israel | 48,000 |
| 14 | 4 | Nikita Malinovski | Russia | 104,500 |
| 14 | 5 | Quentin Laurentjoye | France | 150,500 |
| 14 | 7 | Alexandre de Zutter | France | 382,000 |
| 14 | 8 | Danut Marius Dinca | Romania | 143,000 |
| 14 | 9 | Mariusz Niski | Poland | 106,000 |
|   |   |   |   |   |
| 15 | 1 | Gordon Plomp | Belgium | 148,000 |
| 15 | 2 | Dan Ionut Hila | Romania | 291,500 |
| 15 | 3 | Tristan Guiodo | France | 178,500 |
| 15 | 5 | Michal Sobanski | Poland | 40,500 |
| 15 | 6 | James Mitchell | United Kingdom | 174,000 |
| 15 | 7 | Denis Ioan Poteras | Romania | 95,000 |
| 15 | 8 | Apostolos Bechrakis | Greece | 108,000 |
| 15 | 9 | Krzysztof Idziak | Poland | 166,000 |
| 16 | 1 | Bo Joakim Hedelin | Sweden | 42,000 |
| 16 | 2 | Zhiping Zeng | China | 169,000 |
| 16 | 3 | Elena Grigorescu | Romania | 54,000 |
| 16 | 4 | Daniel Balaiasa | Romania | 110,500 |
| 16 | 5 | Jorma Vuoksenmaa | Finland | 79,500 |
| 16 | 6 | Martin Soukup | Czech Republic | 107,000 |
| 16 | 7 | Lee Egan | Ireland | 125,000 |
| 16 | 9 | Anti Reinthal | Estonia | 58,000 |
|   |   |   |   |   |
| 17 | 1 | Daniel Juul | Denmark | 38,000 |
| 17 | 2 | Plamen Todorov | Bulgaria | 116,000 |
| 17 | 3 | Melech Prozan | Israel | 59,500 |
| 17 | 4 | Eli Heath | United Kingdom | 250,000 |
| 17 | 5 | Yonatan Koko | Israel | 85,000 |
| 17 | 6 | Olof Haglund | Sweden | 63,500 |
| 17 | 7 | Tomas Lindberg | Sweden | 171,000 |
| 17 | 9 | Benny Kneepkens | Netherlands | 36,000 |
|   |   |   |   |   |
| 18 | 1 | Adrian Bizineche | Romania | 158,000 |
| 18 | 2 | Dan Alexandru Nistor | Romania | 55,000 |
| 18 | 3 | Dan Serban Borlan | Romania | 21,500 |
| 18 | 5 | Alexandru Neculae | Romania | 28,500 |
| 18 | 6 | Ville Malinen | Finland | 105,000 |
| 18 | 7 | Dehlia de Jong | Netherlands | 97,000 |
| 18 | 8 | Martin Tsankov | Bulgaria | 103,500 |
| 18 | 9 | Vinod Jadav | United Kingdom | 41,000 |