Adrian Ionescu Eliminated in 5th Place (€25,170)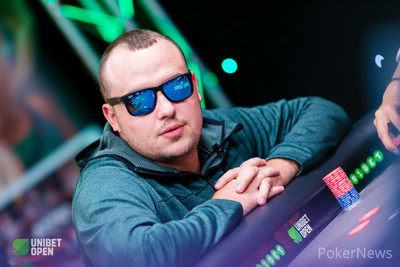 Adrian Ionescu moved all in from the under the gun position with :::Ah:::9s. Anton Vinokurov woke up in the small blind with :::Ad:::Ac and called the bet. The player in the big blind folded and it was up to the dealer.
The dealer put out the :::5d:::Js:::5h:::6d:::6h board and Ionescu wasn't able to double up one more time.
We've lost three players in the past 20 minutes and Vinokurov has a commanding chip lead. Florin Elisei is the second biggest stack and has just 30 big blinds.
| | | |
| --- | --- | --- |
| Anton Vinokurov | 11,405,000 | 2,620,000 |
| Florin Elisei | 3,000,000 | -195,000 |
| Cosmin Cimpeanu | 2,310,000 | -115,000 |
| Carmen Zainescu | 1,050,000 | -770,000 |
| Adrian Ionescu | 0 | -1,045,000 |