Barrage of Post-Bubble Bustouts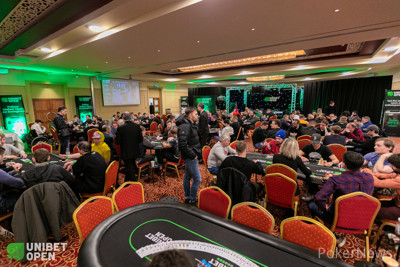 It took more than 2 hours to burst the bubble, but once they were in the money, the bustouts started coming thick and fast. In just a few minutes they are down to 26 players remaining.
See the Payouts tab shortly for payout details on the recently busted players.
| | | |
| --- | --- | --- |
| Luke Walsh | 0 | -140,000 |
| Ilan Cukrowicz | 0 | -70,000 |
| Paul Leckey | 0 | -120,000 |
| Quail Vyacheslav | 0 | -61,000 |
| Tomas Geleziunas | 0 | -117,000 |
| Tom Veenhuysen | 0 | -60,000 |
| Ylva Thorsrud | 0 | -23,000 |
| Alexandru Cinca | 0 | -314,000 |
| Eirimas Livonas | 0 | -151,000 |
| Edward Swales | 0 | -90,000 |
| Mikhael Kvale | 0 | -177,500 |
| Mark Ohare | 0 | -139,500 |
| Emil Hegedus | 0 | -250,000 |