Dream Start for Byrne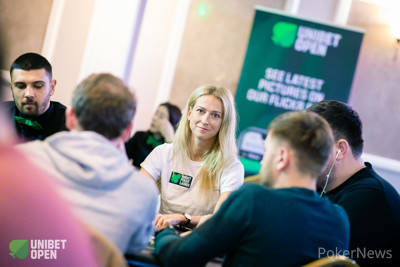 In one of the first hands of the day, there was a double elimination in the far corner of the room and it was Unibet Poker ambassador Daiva Byrne that knocked out two opponents.
According to Byrne, Marius Asanache raised to 2,200 in the cutoff and Catalin Gheorghe called in the small blind. Byrne three-bet to 9,000 in the big blind and Asanache jammed for more than 40 big blinds. Gheorghe called all in and Byrne looked up both with the superior stack.
Asanache held :::Kx:::Qx and Gheorghe turned over :::Ax:::Jx suited, Byrne had the :::Ax:::Kx. An ace-jack high flop improved Gheorghe, but a king appeared on the river.
| | | |
| --- | --- | --- |
| Daiva Byrne | 145,000 | 83,800 |
| Marius Asanache | 0 | -41,000 |
| Catalin Gheorghe | 0 | -38,300 |