Fossaskaret Keeps Firing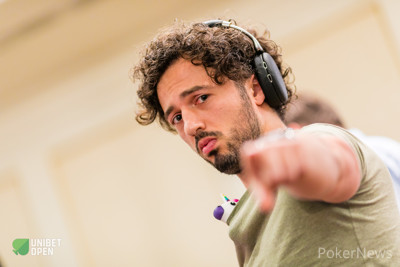 Mateusz Moolhuizen has a cute unicorn head next to his stack but that doesn't keep him from raising. Moolhuizen raised to 1,800 from middle position and small blind Gunnleiv Berge Fossaskaret called from the small blind. Unibet Pro Quentin Lecomte called from the big blind.
The flop was :::3s:::4h:::3h and Fossaskaret decided to lead on the flop with a bet of 3,200. Lecomte called, but initial raiser Moolhuizen folded.
The dealer burnt and turned the :::Ts and Fossaskaret fired another time. He picked up 6,000 from his stack and placed it in the middle of the table. Lecomte let go of his hand after a couple seconds.
| | | |
| --- | --- | --- |
| Quentin Lecomte | 65,000 | 5,000 |
| Gunnleiv Berge Fossaskaret | 39,000 | |
| Mateusz Moolhuizen | 33,300 | -700 |