Joris Springael Eliminated in 2nd Place ($72,814); Joe Serock Wins!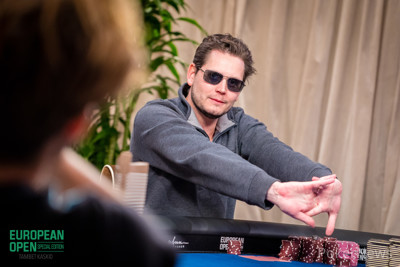 From the button, Joe Serock opened with a min-raise to 400,000 and Joris Springael called in the big blind as the dealer spread a :::Th:::Kd:::6h flop.
Springael checked over to Serock who bet out 475,000. Springael sat there for a few moments and then announced a raise to 1,200,000.
Serock called, and the turn landed the :::2h as Springael announced another bet of 1,200,000. Serock took his due time before pushing out the necessary calling chips as the :::4s completed the board on the river.
Springael checked, and Serock stood up to assess how many chips Springael had remaining; approximately 1,955,000. Serock then announced he was all in and Springael began talking to Serock as he contemplated calling off his tournament life.
"Whatever happens Joey, I still get your flip flop right?" asked Springael.
Serock sat there motionless as Springael stared him down while shuffling 55,000 in pink 5,000-denomination chips for close to five minutes before plunking them into the pot to signify a call.
Serock immediately reached for his cards, tabled his :::Kh:::6c for two-pair and stood up and started walking to his rail.
Springael was forced to show his :::Ad:::4h for a rivered pair, and when Serock saw the good news, he was immediately embraced by his rail that included Anthony Spinella.
With that, Springael is eliminated in 2nd place for a $72,814 payday as Serock is crowned the European Open Special Edition Champion, and recipient of the $113,059 first prize and Wynn Fall Classic trophy.
| | | |
| --- | --- | --- |
| Joe Serock | 13,495,000 | 4,785,000 |
| Joris Springael | 0 | -4,785,000 |