Lepik Tops 65 Survivors on Day 1b 2017 Unibet Open Copenhagen Main Event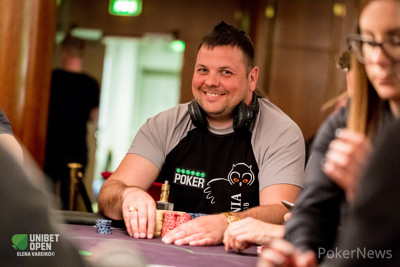 On the second of two starting days of the 2017 Unibet Open Copenhagen DKr 8,250 Main Event, 236 players showed up to try and become the latest victor of an Unibet Open title. It's a jubilee edition: it's the tenth season, the fifth edition in Copenhagen and also the 40th edition of the tour itself. 65 of those hopefuls made their way to Day 2 with Estonia's Kaarel Lepik bagging the overall chip lead with 382,900.
Other notables that made their way to Day 2 include 2016 Unibet Open Malta winner Martin Soukup (276,700) and the last ever EPT winner Jasper Meijer van Putten (109,100).
The day started off with eyes on Bonno van den Hout, who eliminated Farook Ghafoor in one of the first hands with a set over set situation. Van den Hout rode his stack to the late stages of the day but eventually had to hit the rail. The same faith awaited Swedish ultra high-roller Viktor "Isildur1" Blom, Hearthstone legend Thijs "ThijsNL" Molendijk, Danish high-roller Morten Mortensen, Unibet Ambassador Ian Simpson and French Team Unibet Pro Quentin Lecomte.
It turned out to be the day of Kaarel Lepik. The Estonian had a monster hour shortly after the dinnerbreak, where he ran his stack up from 50,000 to 300,000 in no time. Lepik never looked back after that and settled for the end-of-the-day chip lead with 382,900, far more than Day 1a's top finisher Tommy Vedelfort (244,600).
A combined field of 112 hopefuls out of 404 entrants will return tomorrow at noon local time to play towards the final two tables, and possibly a final table if time allows it. 53 of the remaining players will go home with a cash prize, with the top prize set at DKr 562,300 (~€75,719). Blinds will start at 1,200/2,400 with a running ante of 400. PokerNews will provide live updates from the floor until the winner is crowned on Sunday night.