Locke Eliminates Rosca Right Before the Money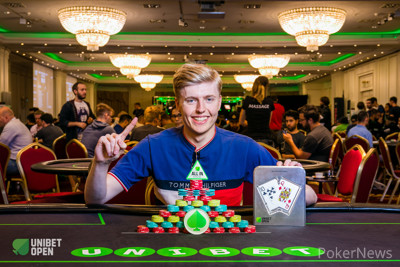 Valeriu Rosca moved all in from early position as he pushed his last 60,000 over the line. One seat over sat Toby Locke, who already won a trophy this week, and he moved all in as well for about 125,000. The rest of the players folded and they opened up their hands.
Valeriu Rosca: :::9h:::9d
Toby Locke: :::As:::Kc
It was a classic race and the dealer started to spread out the :::Kd:::5s:::Qc board. Locke took the lead and left Rosca with just two outs. The turn was the :::5c and the river the :::Qh and Rosca wasn't able to hit. Locke raked in the pot and Rosca walked off to the rail.
| | | |
| --- | --- | --- |
| Toby Locke | 190,000 | 138,500 |
| Valeriu Rosca | 0 | -105,000 |