Oliver White Eliminated in 5th Place (£16,000)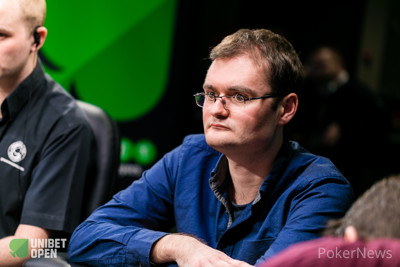 Oliver White moved all in for 130,000 with the :::5h:::5d and Andreas Wiborg called on the button with the :::Ac:::Ts, as did Jonathan Schuman in the small blind with :::Jd:::9c and Honglin Jiang in the big blind with :::6d:::2d.
The flop of :::Td:::4d:::3d flop brought a check from Schuman, a ber of 150,000 by Jiang and a call of Wiborg, Schuman folded. The :::8s turn brought a bet of 625,000 by Jiang and Wiborg snap-folded his top pair. White knew he was drawing dead and left his chair before the :::3s river completed the board.
White takes home £16,000 for his efforts and the final table has now been reduced to the final four.
| | | |
| --- | --- | --- |
| Honglin Jiang | 3,535,500 | 710,500 |
| Jonathan Schuman | 3,030,000 | -220,000 |
| Christopher Yong | 2,335,000 | 130,000 |
| Andreas Wiborg | 1,380,000 | -470,000 |
| Oliver White | 0 | -190,000 |