Raluca Bulboaca Doubles Through Henrikson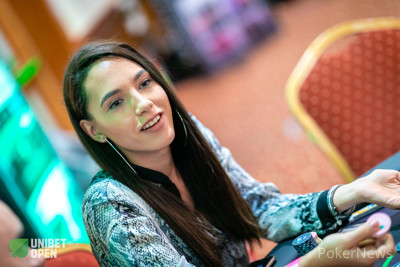 In the penultimate hand of the night, Elias Vaaraniemi raised to 5,300 from early position and then faced the all ins of Kasper Henrikson and Ana Raluca Bulboaca. Vaaraniemi opted to fold and Raluca Bulboaca was the player at risk.
Ana Raluca Bulboaca: :::Ac:::Kc
Kasper Henrikson: :::Ad:::Js
The board came :::7h:::6d:::3c:::5s:::2h and the kicker played to let the online qualifier from Romania double just before bagging and tagging.
| | | |
| --- | --- | --- |
| Ana Raluca Bulboaca | 90,000 | 20,000 |
| Kasper Henrikson | 12,000 | 12,000 |