Team Unibet is Chipping Up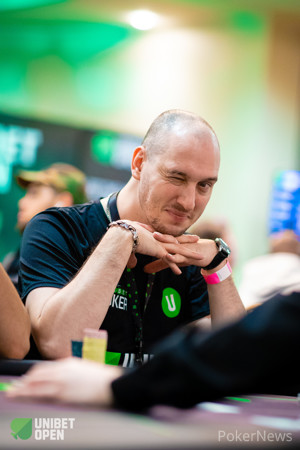 Over on the feature table, Quentin Lecomte, Lisa Vannatta and David Lappin are still going strong while Ian Simpson and Dara O'Kearney chipped up on the outer tables. O'Kearned won chips off John Keown, who then got them all back, while Simpson knocked out Mihai Manole.
Manole had a miracle double against Barrie Pietersz with :::Kc:::Jd versus :::Ah:::Qh when he got it in on the :::Jh:::6h:::5h flop. The :::6s turn and :::6c river gave the Romanian a full house. Shortly after, he lost a flip with ace-king to the sixes of Simpson.
| | | |
| --- | --- | --- |
| Ian Simpson | 205,000 | 65,000 |
| Greg King | 150,000 | -25,000 |
| Quentin Lecomte | 150,000 | 25,000 |
| Dara O'Kearney | 130,000 | 45,000 |
| John Keown | 120,000 | 88,000 |
| Lisa Vannatta | 105,000 | -10,000 |
| Jason Tompkins | 90,000 | 15,000 |
| David Lappin | 90,000 | 27,000 |
| Barrie Pietersz | 50,000 | -67,000 |
| Mihai Manole | 0 | -68,000 |