Unibet Ambassador Simpson Celebrating Tag Team Victory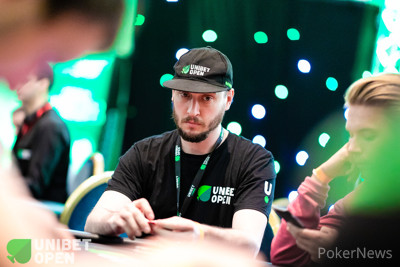 The Unibet Open Paris festival might only be a day old, but there's already reason to be happy for Unibet Ambassador Ian Simpson after taking down yesterday's Tag Team event alongside partner Kevin van der Kooi.
"I love Paris," Simpson told PokerNews. "I came here in the summer with my wife, because she couldn't make this trip. I would have felt bad if I had come without her, so we came and did a week. We did all the stuff; all the tourist destinations.
"This time it's head down. Working hard playing poker."
The focus is paying off, as not only does he sit above average in chips after three levels of Day 1a, but yesterday he took down the Tag Team event.
"That was fun! Kevin [van der Kooi] kept losing the chips that I made. But then he got us to heads-up, and I finished it off!
"I won loads of goodies and chocolates and biscuits. Hoping to take that run-good into the Main. And if the main doesn't go well, then there's always the welcome drinks and the player's party! It's all good. It's not a bad city to bust in!"