Unibet Open Malta Champion Carr Eliminated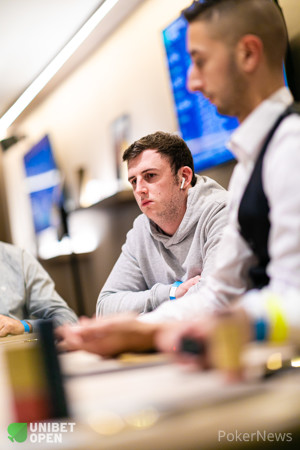 Alan Carr was getting to his feet having been eliminated just short of the money in the Unibet Open Paris Main Event. He held :::ax:::qx against the :::qc:::2c of Jean Yves Chicheportiche on a :::2s:::6h:::8s:::qh:::tc board.
There are now 65 players remaining with 63 paid.
| | | |
| --- | --- | --- |
| Jean Yves Chicheportiche | 665,000 | 315,000 |
| Idir Haiche | 250,000 | 119,000 |
| Johann Zeitoun | 215,000 | 40,000 |
| Yehoram Houri | 210,000 | 130,000 |
| Tabish Zaman | 140,000 | -255,000 |
| Peter Jaksland | 100,000 | -95,000 |
| Johnny Hansen | 70,000 | -40,000 |
| Alan Carr | 0 | -225,000 |