Welcome to Day 1b of the 2018 Unibet Open Bucharest Main Event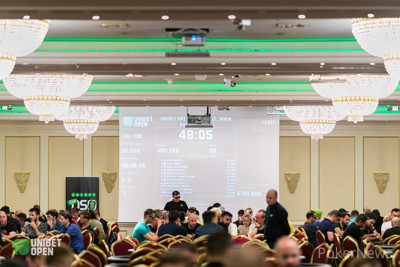 Day 1b of the 2018 Unibet Open Bucharest Main Event will start at 11 a.m. local time in the JW Marriott Bucharest Grand Hotel. The tournament attracted 149 players yesterday on day 1a and Yaron Turgeman is the man to beat, playing a stack of over 300,000. Carmen Zainescu and Mateusz Moolhuizen also have big stacks after the first flight.
Yesterday's action saw a field of 149 players dwindle down to just 32 players in the end. Turgeman had the biggest stack as he bagged up 302,500 and is the only player with over 300,000 chips. Unibet Ambassadors Sophia White and Daiva Byrne also tried to make it to Day 2 but unfortunately for them, they didn't make it. Unibet.fr Pro Quentin Lecomte also was well underway to make it to Day 2 but he also busted out of the tournament.
This is the third visit of the Unibet Open to the Romanian capital. Traian Bostan won the first edition back in 2016 after beating a field of 603 entries. He collected a first place prize of €100,000. Last years edition saw a small decline in attendance after the numbers of Main Event dropped to 502 in 2017. Marius Pertea won the even banking a nice €90,925.
Day 1b of the €1,1,00 Main Event will play out over 11 one-hour levels. There will be 15-minute breaks throughout the day and after level seven there is a dinner break of 60 minutes. The registration of the tournament is open until the end of levels seven. Play will conclude at about midnight local time. For players that bust out of the Main Event or have busted out of the tournament yesterday there is a reentry possibility for Day 1c. Day 1c will be played out later today at 8 p.m. and will feature 20-minute levels.
The PokerNews team will be here in Bucharest to cover the event from start to finish.