Carlsson Flops Boat; Gets Paid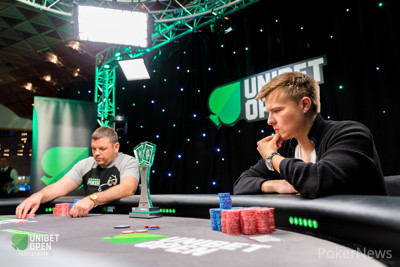 Kaarel Lepik raised the button with :::Kd:::Jh and Sigurd Carlsson defended :::Js:::9h. Carlsson flopped gin on :::Jd:::9d:::9s and elected to lead for 125,000, Lepik quickly came along with the call.
On the :::3h turn, Carlsson continued with 350,000 and Lepik called once more. The river was the :::4d and Carlsson opted for a heavy bet of 1,100,000. Lepik paid it off and dropped to a 35 big blind stack.
| | | |
| --- | --- | --- |
| Sigurd Carlsson | 8,600,000 | 2,000,000 |
| Kaarel Lepik | 3,500,000 | -2,000,000 |