Cimpeanu Doubles Through Kulesza; De Vos No More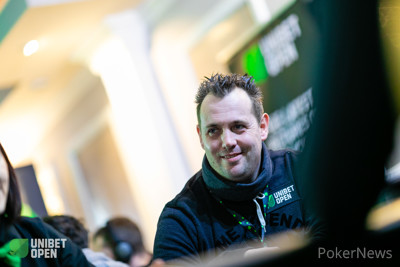 Iulian Tataru leads the field towards the end of level six while Cosmin Cimpeanu scored a vital double on his table. Cimpeanu check-shoved the heads-up flop of :::8d:::7s:::2s and was called by Michal Kulesza.
Cosmin Cimpeanu: :::8h:::8c
Michal Kulesza: :::Jh:::Jc
The :::Kc turn was a blank, as was the :::5h river, and that left Kulesza with a mere 8,000.
No longer in contention for Day 1b is Rory De Vos. After nine minutes, he had scored the first elimination of the day but ended up running out of chips before the final break, sending his chips over to Aku Joentausta.
| | | |
| --- | --- | --- |
| Iulian Tataru | 130,000 | 15,000 |
| Aku Joentausta | 55,000 | 32,000 |
| Cosmin Cimpeanu | 36,000 | 25,000 |
| Michal Kulesza | 8,000 | -14,000 |
| Rory De Vos | 0 | -30,000 |