Day 1c Final Chip Counts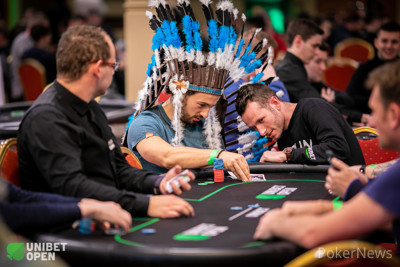 Here's look at the final chip counts for Day 1c. While a lot of big names failed to bag a stack in Day 1a or 1b, many got through the Day 1c turbo flight. Unibet Ambassador Dara O'Kearney made it through and will come into Day 2 with a short stack.
Also qualifying from Day 1c are Ylva Thorsrud, Event #8 winner Filip Holmqvist, Niall Farrell, Alex Kulev, Jack Hardcastle, John Hanaphy, Monica Vaka, Alexandre Reard, Mateusz Moolhuizen, Henrik Tellving, and Jamie Nixon among others.
| | | |
| --- | --- | --- |
| Alexandru Cinca | 184,000 | 184,000 |
| Jamie Nixon | 122,500 | 122,500 |
| James O'Brien | 112,500 | 112,500 |
| Henrik Tellving | 91,000 | 91,000 |
| Fredrik Andersson | 88,000 | 88,000 |
| Mateusz Moolhuizen | 84,500 | 84,500 |
| Gary Stokes | 83,000 | 83,000 |
| Rokas Barzdzius | 82,500 | 82,500 |
| Zoltan Hegyi | 82,000 | 82,000 |
| Patryk Bablok | 78,000 | 78,000 |
| Ludovic Geilich | 71,000 | 71,000 |
| Eirimas Livonas | 69,500 | 69,500 |
| Luke Walsh | 67,000 | 67,000 |
| Jorma Vuoksenmaa | 66,000 | 66,000 |
| Alexandre Reard | 63,000 | 63,000 |
| Gediminas Bartkus | 55,000 | 55,000 |
| Ciaran Burke | 54,500 | 54,500 |
| Eugene Hanratty | 53,500 | 53,500 |
| Gerard Hickey | 51,000 | 51,000 |
| Monica Vaka | 50,000 | 50,000 |
| Emil Brunnberg | 43,500 | 43,500 |
| Michael Mason | 43,000 | 43,000 |
| Remus Matache | 43,000 | 43,000 |
| Stephen Kavanagh | 39,000 | 39,000 |
| John Hanaphy | 38,000 | 38,000 |
| Mark Buckley | 37,500 | 37,500 |
| Augusto Evangelisti | 36,500 | 36,500 |
| Reg Rowan | 35,500 | 35,500 |
| Janos Jeszek | 33,000 | 33,000 |
| Jack Hardcastle | 32,000 | 32,000 |
| Sulaiman Sesay | 32,000 | 32,000 |
| Alex Kulev | 30,000 | 30,000 |
| Zhi Quang Liu | 30,000 | 30,000 |
| Vytautas Aganauskas | 29,000 | 29,000 |
| Richard Oneill | 28,000 | 28,000 |
| Jamie Byrne | 25,500 | 25,500 |
| Janos Van Der Stroom | 22,500 | 22,500 |
| Niall Farrell | 22,000 | 22,000 |
| Paul Kristoffersson | 21,000 | 21,000 |
| Filip Holmqvist | 19,500 | 19,500 |
| Stephen Kehoe | 18,500 | 18,500 |
| Ylva Thorsrud | 17,000 | 17,000 |
| Rait Rimmel | 16,000 | 16,000 |
| Dara O'Kearney | 9,000 | 9,000 |