All Day 1's Complete For the 2020 Unibet Open Dublin Main Event; Max Silver Among Chip Leaders Heading to Day 2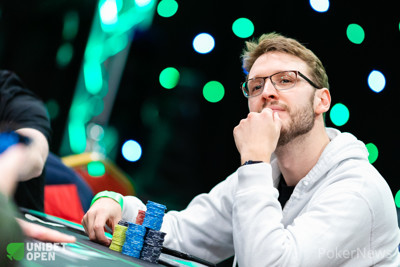 Day 2 is now set, with 106 players advancing from all three flights. Max Silver is among the chip leaders with 213,000 while Weijie Zheng bagged the biggest stack with 371,000.
Day 1b and 1c played down alongside each other as the night wore down, and while a lot of big names like Dara O'Kearney, Jamie Nixon, Niall Farrell, Jack Hardcastle, and Mateusz Moolhuizen were unable to find a bag in Day 1b, they were able to bag a stack in the turbo final flight.
A total of 106 players advanced from the Day 1 flights, out of a total of 294 entries. The Day 2 seat assignments are below. Tune in at noon Saturday to follow the action as they play down to the final table.
| Table | Seat | Player | Chips |
| --- | --- | --- | --- |
| 1 | 1 | Ciaran Burke | 54,500 |
| 1 | 2 | Quail Vyacheslav | 93,000 |
| 1 | 3 | Gerard Hickey | 51,000 |
| 1 | 4 | Padraig O'Neill | 47,500 |
| 1 | 5 | Darius Zyle | 37,500 |
| 1 | 6 | Antti Salmela | 53,000 |
| 1 | 7 | Dex de Jong | 160,500 |
| 1 | 8 | Jan van der Stroom | 22,500 |
| | | | |
| 2 | 1 | Max Silver | 213,000 |
| 2 | 2 | Nicholas Newport | 67,500 |
| 2 | 3 | Mickhael Kvale | 96,000 |
| 2 | 4 | Ylva Thorsrud | 17,000 |
| 2 | 5 | Martin Paap | 58,000 |
| 2 | 6 | Mateusz Moolhuizen | 84,500 |
| 2 | 7 | Apostol Virgil Beg | 230,500 |
| 2 | 8 | Martin Olali | 212,000 |
| | | | |
| 3 | 1 | Fredrik Andersson | 88,000 |
| 3 | 2 | Eduardo Rocha | 37,000 |
| 3 | 3 | Paul Leckey | 166,500 |
| 3 | 4 | Monica Vaka | 50,000 |
| 3 | 5 | Emil Hegedus | 167,000 |
| 3 | 6 | Zoltan Hegyi | 82,000 |
| 3 | 7 | Raymond McKenna | 105,000 |
| 3 | 8 | Sulaiman Sesay | 32,000 |
| | | | |
| 4 | 1 | Eirimas Livonas | 69,500 |
| 4 | 2 | John Hanaphy | 38,000 |
| 4 | 3 | Luke Walsh | 67,000 |
| 4 | 4 | James O'Brien | 112,500 |
| 4 | 5 | Petter Eriksen | 74,000 |
| 4 | 6 | Ronnie Espensen | 79,500 |
| 4 | 7 | John Gough | 122,500 |
| 4 | 8 | Aku Oskari Uotila | 144,000 |
| | | | |
| 5 | 1 | Cedric Greling | 214,500 |
| 5 | 2 | Paul Kristoffersson | 21,000 |
| 5 | 3 | Gary Stokes | 83,000 |
| 5 | 4 | Levente Muzsi | 30,500 |
| 5 | 5 | Alec Kulev | 30,000 |
| 5 | 6 | Augusto Evangelsti | 36,500 |
| 5 | 7 | Mark Buckley | 37,500 |
| 5 | 8 | Tiago Santos | 64,500 |
| | | | |
| 6 | 1 | Sjors Harmens | 54,000 |
| 6 | 2 | Zhi Quang Liu | 30,000 |
| 6 | 3 | Thomas Harvey | 124,000 |
| 6 | 4 | Chris Dowling | 66,500 |
| 6 | 5 | Gediminas Bartkus | 55,000 |
| 6 | 6 | Zoltan Boszormenyi | 35,500 |
| 6 | 7 | Jason Tompkins | 128,000 |
| 6 | 8 | Michael Muldoon | 46,500 |
| | | | |
| 7 | 1 | Jorma Vuosenmaa | 66,000 |
| 7 | 2 | Pieter Aerts | 40,500 |
| 7 | 3 | Dennis Packert | 22,000 |
| 7 | 4 | Andy Black | 143,000 |
| 7 | 5 | Jack Hardcastle | 32,000 |
| 7 | 6 | Mark Muldoon | 246,000 |
| 7 | 7 | Oliver White | 86,500 |
| 7 | 8 | Richard O'Neill | 280,000 |
| | | | |
| 8 | 1 | Janos Jeszek | 33,000 |
| 8 | 2 | Remus Matache | 43,000 |
| 8 | 3 | Alex Hendriks | 182,000 |
| 8 | 4 | Ludovic Geilich | 71,000 |
| 8 | 5 | Patryk Bablok | 78,000 |
| 8 | 6 | Daragh Davey | 44,000 |
| 8 | 7 | Dara O'Kearney | 9,000 |
| 8 | 8 | Michael Mason | 43,000 |
| | | | |
| 9 | 1 | Rait Rimmel | 16,000 |
| 9 | 2 | Ronan Madden | 94,500 |
| 9 | 3 | Rokas Barzdzius | 82,500 |
| 9 | 4 | Frederick Heyrman | 47,000 |
| 9 | 6 | Filip Holmqvist | 19,500 |
| 9 | 6 | – | – |
| 9 | 7 | Gedas Petrauskas | 90,500 |
| 9 | 8 | John Dwyer | 74,500 |
| | | | |
| 10 | 1 | Espen Uhlen Jorstad | 77,500 |
| 10 | 2 | Vytautas Aganauskas | 29,000 |
| 10 | 3 | Reg Rowan | 35,500 |
| 10 | 4 | Tomas Geleziunas | 135,000 |
| 10 | 5 | Henrik Tellving | 91,000 |
| 10 | 6 | Emil Brunnberg | 43,500 |
| 10 | 7 | – | – |
| 10 | 8 | Alexadru Cinca | 184,000 |
| | | | |
| 11 | 1 | Tim Farrelly | 46,500 |
| 11 | 2 | Rait Viskov | 40,000 |
| 11 | 3 | Alexandre Reard | 63,000 |
| 11 | 4 | – | – |
| 11 | 5 | Alex Irwin | 70,000 |
| 11 | 6 | Domantas Klimiauskas | 25,000 |
| 11 | 7 | Steve Vollers | 138,000 |
| 11 | 8 | Eugene Hanratty | 53,500 |
| | | | |
| 12 | 1 | Mark O'Hare | 266,000 |
| 12 | 2 | Tom Veenhuysen | 34,000 |
| 12 | 3 | Toni Englund | 34,500 |
| 12 | 4 | – | – |
| 12 | 5 | Mark Smyth | 118,000 |
| 12 | 6 | Stephen Kavanaugh | 39,000 |
| 12 | 7 | Johnny Jensen | 136,000 |
| 12 | 8 | Pasi Kakkonen | 109,000 |
| | | | |
| 13 | 1 | Jamie Byrne | 25,500 |
| 13 | 2 | Edward Swales | 125,500 |
| 13 | 3 | Jamie Nixon | 122,500 |
| 13 | 4 | Samuel Baneham | 105,000 |
| 13 | 5 | Adrian Nica | 57,000 |
| 13 | 6 | Namir Mohamed | 41,500 |
| 13 | 7 | Weijie Zheng | 371,000 |
| 13 | 8 | – | – |
| | | | |
| 14 | 1 | Niall Farrell | 22,000 |
| 14 | 2 | Marco Herman | 16,000 |
| 14 | 3 | Aage Reerslev | 87,500 |
| 14 | 4 | Wim Anne Wesselink | 160000 |
| 14 | 5 | Azuz Ben | 77,500 |
| 14 | 6 | Stephen Kehoe | 18,500 |
| 14 | 7 | Thomas Patterson | 48,000 |
| 14 | 8 | Ilan Cukrowicz | 167,000 |