Simpson, Lovgren, Grigore and De Jong Eliminated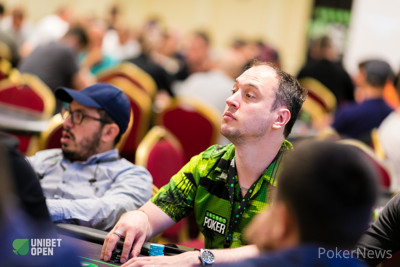 Sofia Lovgren popped up in the field, but she wasn't able to survive that long. She busted out of the tournament and her only chance to make it through to Day 2 is the reentry possibility on Day 1c.
Dex de Jong, Marcel Grigore, and Unibet Ambassador Ian Simpson are in the exact same situation as they also have busted out of the tournament.
Simpson lost the last of his stack with ace-king. He three-bet preflop to 2,500 from the big blind and two players called. The flop came down :::Ks:::8s:::2d and Simpson continued with a bet of 3,500. He lost one opponent but had to shake off another when the :::Jd turn came down. Simpson check-raised all-in after his opponent bet 8,000. Simpson's all-in was for about 18,000. Simpson's opponent called holding :::Kx:::Jx and the river wasn't good for Simpson.
| | | |
| --- | --- | --- |
| Sofia Lovgren | 0 | -30,000 |
| Dex de Jong | 0 | -24,000 |
| Marcel Grigore | 0 | 0 |
| Ian Simpson | 0 | -34,000 |