Final Chips for Day 1a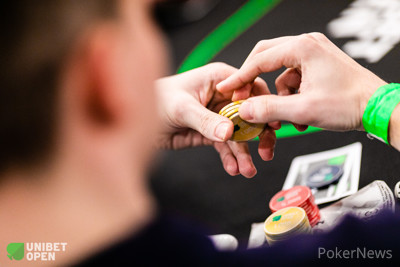 A total of 24 players advanced from Day 1a, out of the original 83 entries. The final 24 chip stacks from the first starting flight are below.
Those 24 players have now bagged up their chips for Saturday's Day 2, but there are still two more chances to bag a stack to Day 2. New players can register for Day 1b, which starts at noon on Friday, and anyone who busted Day 1a or busts Day 1b tomorrow is welcome to re-enter the turbo Day 1c flight starting at 9PM. That turbo flight is also open to new players of course, but its the last chance for players who bust one of the other Day 1s to try a second time.
PokerNews will be on the ground to bring you the action from both Day 1b and Day 1c, so stay tuned for more action from the 2020 Unibet Open Dublin.
| | | |
| --- | --- | --- |
| Mark Muldoon | 246,000 | 121,000 |
| Max Silver | 213,000 | 33,000 |
| Alex Hendriks | 182,000 | 72,000 |
| Dex de Jong | 160,500 | 30,500 |
| Wim Wesselink | 160,000 | 107,000 |
| Aku Oskari Uotila | 144,000 | 44,000 |
| Andy Black | 143,000 | 22,000 |
| Tomas Geleziunas | 135,000 | 90,000 |
| John Gough | 122,500 | 12,500 |
| Pasi Kakkonen | 109,000 | -1,000 |
| Aage Reerslev | 87,500 | 3,500 |
| Oliver White | 86,500 | 21,500 |
| Ronnie Espensen | 79,500 | 20,500 |
| Espen Jorstad | 77,500 | -22,500 |
| Nicholas Newport | 67,500 | -7,500 |
| Tiago Santos | 64,500 | -9,500 |
| Antti Salmela | 53,000 | -14,000 |
| Michael Muldoon | 46,500 | -63,500 |
| Tim Farrelly | 46,500 | -1,500 |
| Toni Englund | 34,500 | -16,500 |
| Tom Veenhuysen | 34,000 | -8,000 |
| Domantas Klimiauskas | 25,000 | -95,000 |
| Edward Swales | 12,500 | -57,500 |