Kaarel Lepik Wins 2017 Unibet Open Copenhagen Main Event After Stunning Comeback! (DDK 562,300)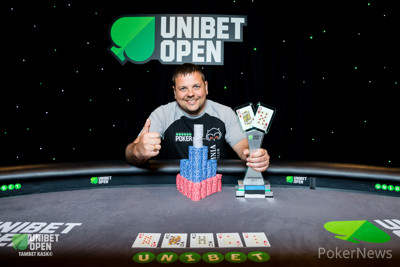 Kaarel Lepik has done it! The 38-year old Estonian came into Copenhagen as part as a group of six of the Insomnia Poker Club, who all tried to qualify for the Main Event. Lepik was the only one out of six to actually qualify and eventually went all the way. Lepik overcame Sigurd Carlsson after a fiercely contested heads-up battle in which Lapik was trailing for hours heads-up.
2011 Unibet Open Riga winner Peter Harkes saw his bid at a second title end in third place. Start-of-the-day chipleader Monica Vaka, who had a chance to become the first ever female Unibet Open champion, fell in seventh place.
Final result
| position | player | country | prize in DKK | prize in € |
| --- | --- | --- | --- | --- |
| 1 | Kaarel Lepik | Estonia | DKK 562,300 | €75,996 |
| 2 | Sigurd Carlsson | Faroe Islands | DKK 362,100 | €48,938 |
| 3 | Peter Harkes | Netherlands | DKK 249,900 | €33,774 |
| 4 | Mikael Johansson | Sweden | DKK 185,000 | €25,003 |
| 5 | Deivis Rinkevicius | Lithuania | DKK 142,200 | €19,197 |
| 6 | Martin Wendt | Denmark | DKK 109,400 | €14,769 |
| 7 | Monica Vaka | Norway | DKK 87,600 | €11,826 |
| 8 | Florian Lanz | Switzerland | DKK 70,100 | €9,463 |
| 9 | Soren Hansen | Denmark | DKK 56,100 | €7,573 |
13 players returned to Casino Copenhagen at noon local time to try and capture the coveted Unibet Open title. For Mateusz Krzyzewksi, the day ended after mere minutes when he shoved ace-six in ace-jack. Thomas Ardai was the next to go: he lost the classic ace-king versus the pocket queens of Carlssen. It was a pivotal pot to Carlsson, who grabbed a big chip lead after the hand.
Tomasz Kozub started the day second in chips. After losing a few pots in the early stages, Kozub four-bet shoved pocket jacks into Vaka's pocket queens, didn't improve and finished in 11th place. Jes Bondo became the final table bubble by shoving pocket queens into Lepik's pocket aces. There was no miracle in the cards for Bondo, while Lepik skyrocketed up the leaderboard with the extra chips.
The nine remaining players were seated as follows:
| Seat | Player | Country | Chip Count |
| --- | --- | --- | --- |
| 1 | Deivis Rinkevicius | Lithuania | 1,070,000 |
| 2 | Monica Vaka | Norway | 2,875,000 |
| 3 | Mikael Johansson | Sweden | 750,000 |
| 4 | Soren Hansen | Denmark | 1,020,000 |
| 5 | Martin Wendt | Denmark | 480,000 |
| 6 | Peter Harkes | Netherlands | 1,100,000 |
| 7 | Florian Lanz | Switzerland | 525,000 |
| 8 | Kaarel Lepik | Estonia | 1,600,000 |
| 9 | SIgurd Carlsson | Faroe Islands | 2,830,000 |
Soren Hansen quickly busted in 9th place after an ill-timed triple barrel bluff with ten high. Harkes had flopped two pair and called every street to send Hansen to the rail. Florian Lanz shortly exited after Hansen in eight place. Short stacked, he shoved eight-trey into jack-eight and couldn't catch up.
The next one to go was start-of-the-day chipleader Monica Vaka. The Norwegian – seven months pregnant – was the story of the tournament and showed her poker prowess throughout. However, an unfortunate series of events at the final table led to the demise of the last female standing. Vaka lost pocket kings against Harkes' pocket aces and never gained any traction after that. After losing another all-in confrontation, Vaka was down to around ten big blinds, She open-shoved pocket fives from the small blind in order to get some back but Mikael Johansson woke up with pocket kings in the big blind to send Vaka to the rail.
Martin Wendt finished in sixth place after getting pocket nines in against Carlsson's pocket tens. He was shortly followed by Deivis Rinkevicius, who quickly succumbed to Carlsson as well by losing king-queen to ten-nine. Lepik then eliminated Johansson with pocket fours against jack-eight to take us down to the last three.
2011 Unibet Open Riga winner Harkes was in contention for a second title for a long time. Being short against the two big stacks Carlsson and Lepik, Harkes tried to start his comeback with pocket sixes against Carlsson's ace-trey. An ace on the flop ended Harkes' run in third place, who added a third Unibet Open final table to his already impressive poker resumé.
With a 2:1 chip lead, Carlsson started the heads-up by running over Lepik and distancing himself even more. The Estonian hovered between 15 and 35 big blinds for hours but navigated his way around with the shorter stack. It took more than three hours before the Estonian finally was able to get even in stacks.
Then, in one hand, Lepik dealt the decisive blow. Holding ace-five against Carlsson's nine-seven in a three-bet pot, the flop came down seven-four-trey and both players checked. The turn was a deuce, completing Lepik's straight, and Carlsson check-called a big bet. The seven on the river gave Carlsson trip sevens and he check-called all in with the inferior hand for nearly all his chips.
In the next hand, Lepik finished it off with king-nine against king-trey to become the 40th Unibet Open champion. His good friend and countryman, official Unibet Open photographer Tambet Kask, captured the stunning comeback in a series of photos. Check them out here.
That's all from Casino Copenhagen in the stunning Radisson Blu Scandinavia Hotel. The Unibet Open will be back in September for a special stop at a still to be announced location. PokerNews will once again be there to provide you all the live updates from the floor as it happens. Until next time!