Kenny Hallaert Explains What's New at the Unibet Open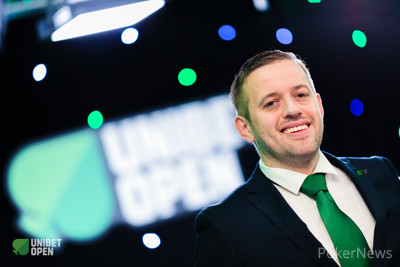 We sat down with Unibet Open Tournament Director Kenny Hallaert to learn about some of the recent changes implemented at the Unibet Open including the introduction of a third Main Event opening flight this festival, including a big blind structure in some side events, integration the DeepStack Open into the Unibet Open schedule, and adding #QueenRules to the schedule earlier this year.
Three Main Event Opening Flights and a Single Reentry
One major change was that for the first time the Unibet Open hosted a third opening flight in its Main Event. Additionally, players were allowed allowed one reentry for the first time in the Main Event provided they did so in the newly created Day 1c.
"We added an extra opening flight to the Main Event with a shorter clock with 20-minute blind levels," Hallaert said. "Players also had the opportunity to reenter but only into that specific flight. So, it's a maximum of two bullets allowed and the second bullet has to be taken on Day 1c for all players wanting to reenter the tournament."
The Unibet Open Main Event has historically been a freezeout through its ten-year history. We asked Hallaert whether allowing one reentry for the first time was a step in allowing unlimited reentries in the future.
"That's not the plan but sometimes you adapt to the local market and what the local players want," said Hallaert. "For example, we worked together here with PokerFest and we have different organizations we work with at different stops. We always try to come to an agreement with what we want and what players want."
Hallaert further elaborated that permitting one reentry is thought of as a compromise to cater to more of its players.
"This is the first time we offer reentry," said Hallaert. "As a player and as an organizer myself I am not a big fan of reentries, but I think this is a good compromise we found. We will always listen to the players and what the players want, but it's not always what players want that is best for the game. Sometimes the players that are the most vocal are a different group of players that you don't always here from on social media and various other channels. We want to protect all players. We want to make sure all players are involved. We want to have a good structure and a good schedule that is good for everybody from the local player, to the player that qualified online at Unibet Poker for €2, to the player that is going to buy in straight for himself and maybe play for five entries if he wants to. So, we want to be able to find some balance. But it's definitely not in the long-run we are thinking about moving everything to an unlimited reentry"
Many old school poker players prefer a freezeout structure. Add Hallaert to that club.
"I am still not a big fan of reentries and I think tournaments still should be as they were a decade ago," said Hallaert. "I think freezeouts are still the best. I prefer to play a tournament with a lower guarantee that is a freezeout than a tournament that offers double the prize pool with unlimited reentries. It's not always easy to find a balance, especially for the bigger events where you have a lot of people that qualify for a small amount of the buy-in and people that are not rolled to reenter the tournament. You always have to take that into account. I think for those types of tournaments it is better to have a freezeout or a limited type of reentry tournament for the players."
Big Blind Ante Structure Introduced at Side Events
Another change to take place in Bucharest was the introduction of the big blind ante structure to some events, including the Unibet Open Bucharest High Roller. Hallaert shared he originally wanted to implement this concept at a prior job and was shot down. He was told that it would likely never happen but times do change and Hallaert feels players enjoy it.
Hallaert also commented that he feels the big blind ante structure is better than the button ante structure.
"I've played button antes and I've played big blind antes," shared Hallaert. "I have talked to other players as well about the differences between the two and comparing them to the regular ante. I think the big blind ante is the best thing to do and the easiest. There is always a big blind and it is always a different person. For example, when you go to a single ante structure and go to a button ante structure, there is not always a button and in the rare occasion there might be someone on the button twice. So, with the big blind ante structure there is always an ante to play for."
Hallaert also explained that the big blind ante could change strategy of the players, especially in cases when a player is low on chips.
"If you have a button ante and the player on the button has less than one big blind left because he just lost a big pot, the next hand he is forced all-in and he can't win more than the ante he invested in," Hallaert shared.
There is often discussion on social media about whether that whether the ante or the big blind should be posted when a player has less than two big blinds remaining. Hallaert believes the big blind should be posted first.
"With the big blind ante there is discussion about whether the big blind should be posted first or if the ante should be posted first," said Hallaert. "Some people think the ante should be posted first but at this point I am more of a believer that the big blind should be posted first. So that is still a thing that still might cause debate."
Hallaert strongly believes that in the near future all major tournaments will adapt to a single ante structure.
"I think in a year from now, all major tournaments will have a single ante structure," began Hallaert. "As far as whether it will be a big blind or button ante structure, I think most will adopt a big blind ante structure. I even see the World Series of Poker Main Event next year with a big blind ante structure."
In general, players appear happy with the single ante structure since it moves the game along faster. Not only do dealers not need to remind all of the players at the table to post antes but lower-denominated chips are colored up faster.
"Players are happy with the single ante concept," said Hallaert. "From recreational players to professional players, everybody thinks that the game runs more smoothly because there are less discussions and it saves some time. Each level you can play a few hands more. However, with a big blind ante, it has an impact on the guy in early position and will still be in the big blind. It will change strategy a little bit. For example, a player might play differently if he has only five big blinds left and are under the gun with the knowledge the next hand he will be investing two big blinds and after that hand will only have three big blinds."
The Unibet Open organizers wanted to test the water with introducing the big blind ante structure in side events due to that they do not want to make major changes mid-season to the Main Event and to have the opportunity to get feedback.
"The reason we are not doing a big blind ante structure throughout the entire festival is that we don't like to do a lot of changes mid-season," said Hallaert. "We started the season with a regular ante structure, so especially for the Main Event we wanted to keep it with a regular ante structure until the end of the season. However, we are doing some side events with a big blind structure to gain some experience for ourselves as organizers and see if we have to make any small modifications. Also, we are doing this to get our regular players used to this concept and ask for their feedback about what they think about the concept. Then at the end of the season we will review everything and decide if we will switch to a big blind ante structure for all events or if we want to keep the regular ante structure."
DeepStack Open Remains Integrated Into Unibet open for Second Straight Stop
Another change this season was integrating the DeepStack Open into the Unibet Open schedule. This began at the last festival in Malta and Hallaert shared it was an easy decision to do the same in Bucharest after its success.
"We did it the first time in Malta and we were happy how things went," said about the DeepStack Open being integrated into the Unibet Open schedule. "That is why we immediately decided to do it again for this event. No plans have been made for future Unibet Opens yet. However, it is definitely possible we will continue to integrate the DSO, that is sponsored by Unibet, more into the tour.
#QueenRules Back Again
Also new this year was the introduction of the #QueenRules event in London at the beginning of the year. To add to the excitement, poker princess Molly Bloom hosted the tournament. Hallaert shared that its initial success has led for the concept to be expanded to other events.
"The #QueenRules is something we first started to do in London," said Hallaert. "We have hosted ladies events before but not with the queen rules concept. So, we integrated #QueenRules and have had it every stop this season. In the future we plan to integrate the queen rules concept further into Unibet."
Hallaert shared that the players appear to be happy with the concept.
"From what I see, the ladies that are playing those events seem happy with the concept, said Hallaert. "We always plan to create a good atmosphere around it as well. We want to focus on the quality and not necessarily the quantity of our events."