Kron Bests Van Brabander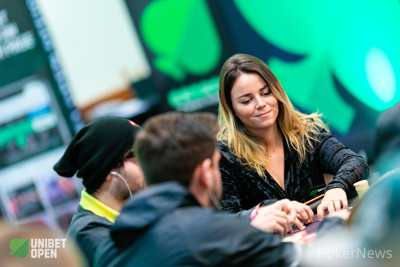 Julien Kron made it 6,000 to go from the cutoff and Charlotte van Brabander three-bet all in for her last 34,000 in the small blind, which Kron quickly called when it was his turn to act.
CharlotteVan Brabander: :::Ah:::Jd
Julien Kron: :::Kh:::Qc
The Belgian was ahead preflop but fell behind on the :::Qd:::5c:::3c flop, and things got worse on the :::8c turn. Only two aces were left for Van Brabander, and the river was the blank :::9s. Van Brabander will likely enter the €80+10 Queen Rules Side Event shortly, a Ladies Event hosted by Unibet Poker ambassador Daiva Byrne. So far, there are three tables running with a total of 25 entries.
| | | |
| --- | --- | --- |
| Julien Kron | 320,000 | 120,400 |
| Charlotte Van Brabander | 0 | -47,600 |