O'Kearney Eliminated on a Flip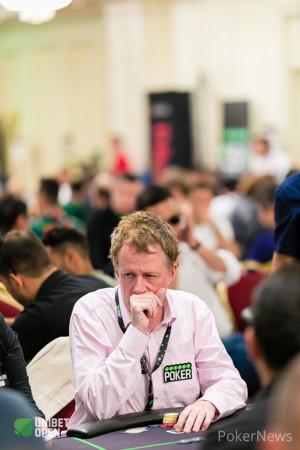 We caught up with Dara O'Kearney on the break relaxing with fellow Unibet Poker ambassadors Daiva Byrne and Espen Jorstad.
O'Kearney shared that his chip stack dwindled down to 11 big blinds when he felt he found a good spot to get them in.
The player under the gun opened before the player on the button called. O'Kearney looked down at :::As:::7s and three-bet jammed his stack. The opener isolated with a four-bet shoved and the player on the button called.
O'Kearney's opponent turned over :::4x:::4x, creating a classic flip situation for O'Kearney. Unfortunately, O'Kearney's tournament ended when the board ran all blanks.
While O'Kearney's Main Event is over, he did share that after some downtime he will likely enter one of the side events on the schedule later today.
| | | |
| --- | --- | --- |
| Dara O'Kearney | 0 | -50,000 |