The Final Chip Counts for Day 1b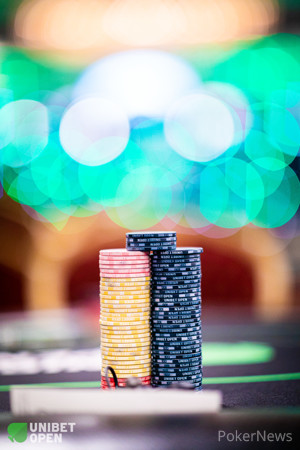 Here's a look at how the Day 1b qualifiers stacked up at the end of the day. Day 1c is still playing down the final few minutes of Level 10, so the final Day 2 field isn't quite set yet. At most, 44 players from Day 1c will join the players in this list, and the qualifiers from Day 1a, in tomorrow's Day 2.
End of Day recap will come once the dust settles on Day 1c.
| | | |
| --- | --- | --- |
| Weijie Zheng | 371,000 | 298,000 |
| Mark Ohare | 266,000 | 122,000 |
| Apostol Virgil Beg | 230,500 | 198,500 |
| Cedric Freling | 214,500 | 151,700 |
| Martin Olali | 212,000 | 162,000 |
| Ilan Cukrowicz | 187,000 | 42,000 |
| Emil Hegedus | 167,000 | 80,000 |
| Paul Leckey | 166,500 | 56,500 |
| Steven Vollers | 138,000 | 95,000 |
| Johnny Jensen | 136,000 | 93,000 |
| Jason Tompkins | 128,000 | 87,000 |
| Thomas Harvey | 124,000 | 93,700 |
| Mark Smyth | 118,000 | 12,000 |
| Samuel Baneham | 105,000 | 34,000 |
| Raymond Mckenna | 105,000 | 62,000 |
| Mikhael Kvale | 96,000 | 22,000 |
| Ronan Madden | 94,500 | 39,500 |
| Quail Vyacheslav | 93,000 | 34,000 |
| Gedas Petrauskas | 90,500 | 66,500 |
| Azuz Ben | 77,500 | 47,500 |
| John Dwyer | 74,500 | 4,500 |
| Petter Eriksen | 74,000 | 39,000 |
| Alex Irwin | 70,000 | 53,000 |
| Chris Dowling | 66,500 | 46,500 |
| Martin Paap | 58,000 | 18,000 |
| Adrian Nica | 57,000 | 37,000 |
| Sjors Harmens | 54,000 | -16,000 |
| Thomas Patterson | 48,000 | -14,000 |
| Padraig Oneill | 47,500 | 8,500 |
| Frederick Heyrman | 47,000 | -18,200 |
| Daragh Davey | 44,000 | 9,000 |
| Namir Mohamed | 41,500 | 11,500 |
| Pieter Aerts | 40,500 | -9,500 |
| Rait Viskov | 40,000 | 7,000 |
| Darius Zyle | 37,500 | 1,500 |
| Eduardo Rocha | 37,000 | 7,000 |
| Levente Muzsi | 30,500 | -34,500 |
| Dennis Packert | 22,000 | -18,000 |
| Marco Herman | 16,000 | -58,000 |