Unibet Open London in Numbers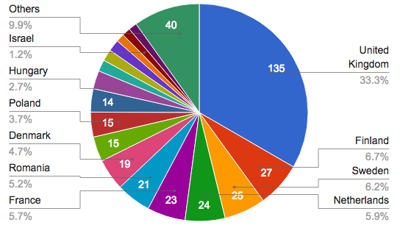 40 different nations were represented among the 419 entrants, with the United Kingdom unsurprisingly delivering the most poker enthusiasts. With 135 players, the UK is far ahead of the second strongest nation, which is Finland (27). Sweden (25), The Netherlands (24) and France (23) rounded out the top 5.
Countries such as Malaysia, Vietnam and Iraq were represented among the other nations, making this Unibet Open a very international affair.
| Country | Players | Country | Players | |
| --- | --- | --- | --- | --- |
| United Kingdom | 135 | Norway | 14 | |
| Finland | 27 | Hungary | 11 | |
| Sweden | 25 | Germany | 7 | |
| Netherlands | 24 | Portugal | 7 | |
| France | 23 | Spain | 7 | |
| Romania | 21 | Ireland | 5 | |
| Denmark | 19 | Israel | 5 | |
| Belgium | 15 | Lithuania | 5 | |
| Poland | 15 | Others | 40 | |