Unibet Open Tournament Director Kenny Hallaert Has a Passion for Poker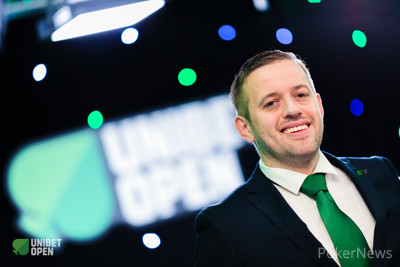 Unibet Open Tournament Director Kenny Hallaert has always had a job ever since he started playing poker in 2004 including for the last decade in the poker industry. He was approached by Unibet a couple of years ago and agreed to become the Unibet Open tournament director the day before the 2016 World Series of Poker Main Event began.
He impressively made the final table in the Main Event. It was the last year the tournament featured the November Nine and after a couple of months break he took sixth place for almost $1.5 million.
However, the announcement wasn't made until after Hallaert made the final table, leaving open some public speculation about the timing of his agreement to join the Unibet Open team.
"In 2016, I decided to work for the Unibet Open," said Hallaert. "I had an agreement with Unibet the day before I started playing the Main Event. Unibet Open's Head of Live Events Nataly Sopacuaperu was in Las Vegas during that summer and we had a final meeting just before I started playing the WSOP Main Event. It wasn't communicated to the public straight away since there were still some things that needed to be taken care of. Then all of a sudden, one week later, I made the final table of the Main Event. But, the timing was a whole coincidence.
"I never thought about quitting the job," said Hallaert. "I have a lot of passion for the game in general whether it is me playing or me running events. I enjoy both sides of the table. I have always had a job next to playing poker. For me, I found a good balance in there in life and just in general. Every time I am playing poker I am looking forward to running the next event and every time I am running an event I look forward to playing. Also financially, I have a job and an income that pays the bills and separately I have a poker bankroll. I could always separate those two, so I never had to worry about having to make some money so at the end of the month the bills can be paid. I could just freely play and if I go broke with my poker bankroll, so be it, I still have the job. That also reduce the stress while playing poker."
Passion on the Felt Still Strong
Hallaert's passion to play poker hasn't slowed down since becoming the Unibet Open tournament director and he still finds plenty of time to play the game he loves both live and online.
"I still do find a lot of time to play myself," said Hallaert. "I am currently working exclusively for Unibet and that means I am running the Unibet Open, which has four stops per year, and a fifth event, which is a regional event in Belgium that will take place next month. So, next to that there is still plenty of time for me to play a little bit of poker myself. Whether that is online or live, I still do find enough time. I would say that all the work I do for Unibet consumes about 1 ½ months a year of my time, so there is still plenty of time for me to play poker myself. I can also work behind the scenes remotely before and after events which makes things convenient for me as well."
For many, it would be easy to quit working a day job after winning a seven-figure haul at the WSOP Main Event. However, this thought never crossed Hallaert's mind.
We were curious whether Hallaert is treated different as a player by the other players when battling it out on the felt.
"It happens sometimes where players are looking at me and asking me what the ruling is in a certain spot," shared Hallaert about what might be different. "When that comes up I tell them that today I am here as a player and not as a tournament director. That I have to respect the rulings that the floor people make. I might not agree on it but I still have to respect it."
Hallaert elaborated that tournament directors can look at the same situation differently.
"Sometimes players asked me what I would have ruled and I will let them know if I might have ruled it differently," Hallaert said. "It is like any sport with a referee. It is not different than in a basketball game and one referee might rule a play a foul and another referee might not. We are all still human beings and not everyone will think exactly the same. Of course, we always try to keep the game integrity as high as possible and take fair play into consideration of every decision."
Hallaert feels his experience on the felt has also helped him as a tournament director.
"My experience as a poker player has helped me a lot in my job as a tournament director because I do play a lot and have spent a lot of time in between poker players," said Hallaert. "So, I kind of know how the players are thinking and when I have to make a ruling my experience as a player helps a lot."