Its Time to Crown the First Unibet Open Champion of 2020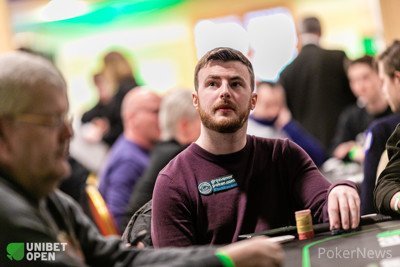 After an excruciatingly long bubble on Day 2, Day 3 will start with a few more players than originally planned. The original plan was to end Day 2 when they got nine-handed on the official final table, but the bubble took more than 3 hours to play out, which pushed the schedule back a bit.
Once the bubble finally burst, Tournament Director Glenn Doyle decided to end the day after the end of Level 20, or about 12:45 AM local time. When they reached that point in the structure there were still 12 players left in action.
Ciaran Burke, who has nearly $200,000 in career wins, has already pushed that number over $200K no matter what happens on Day 3, but he comes into the day with the biggest stack of 1.2 million. His previous top score was €55,000 for 3rd in the 2007 Irish Poker Open Main Event, so he'll be able to set a new record for himself if he can keep the lead till the end and score the €64,110 top prize. Tied with him for first is Alex Hendriks, who also bagged 1,200,000.
It won't be an easy run for them though. Chomping at their heels is Jamie Nixon who has more than $100,000 in live cashes to his name, and the second stack of 980,000 chips to start Day 3. Unibet Ambassador Espen Uhlen Jorstad is also in the mix, bagging a respectable stack of 785,000 for 5th place. Jason Tompkins will come back to Day 3 with a shorter stack of 295,000, but his nearly $900,000 in live wins proves he's capable of running that back up again.
The other two players to watch are Niall Farrell and Jack Hardcastle. Both of them secured their seat in Day 2 from the Day 1c turbo flight, but they both came into the day very short stacked. However, they were able to battle it out and build up their stacks to the point that Hardcastle was chip leader for a couple of levels on Day 2, and Farrell maintained a solid stack through the later stages of the day.
The seating assignments and chip counts for the full final day field are below.
| Table | Seat | Player | Country | Chip Count |
| --- | --- | --- | --- | --- |
| Table 1 | Seat 1 | Alex Hendriks | Netherlands | 1,200,000 |
| Table 1 | Seat 2 | Empty | | |
| Table 1 | Seat 3 | Empty | | |
| Table 1 | Seat 4 | Wim Anne Wesselink | Netherlands | 650,000 |
| Table 1 | Seat 5 | Martin Olali | | 810,000 |
| Table 1 | Seat 6 | Jack Hardcastle | United Kingdom | 215,000 |
| Table 1 | Seat 7 | Weijie Zheng | Ireland | 660,000 |
| Table 1 | Seat 8 | Ciaran Burke | Ireland | 1,200,000 |
| Table 2 | Seat 1 | Espen Uhlen Jorstad | Norway | 785,000 |
| Table 2 | Seat 2 | Samuel Baneham | Ireland | 385,000 |
| Table 2 | Seat 3 | Niall Farrell | Scotland | 755,000 |
| Table 2 | Seat 4 | Empty | | |
| Table 2 | Seat '5 | Jamie Nixon | England | 980,000 |
| Table 2 | Seat 6 | Steven Vollers | Netherlands | 895,000 |
| Table 2 | Seat 7 | Empty | | |
| Table 2 | Seat 8 | Jason Tompkins | Ireland | 295,000 |
| | | |
| --- | --- | --- |
| Ciaran Burke | 1,200,000 | 0 |
| Alex Hendriks | 1,200,000 | 0 |
| Jamie Nixon | 980,000 | 0 |
| Steven Vollers | 895,000 | 0 |
| Martin Olali | 810,000 | 0 |
| Espen Uhlen Jorstad | 785,000 | 0 |
| Niall Farrell | 755,000 | 0 |
| Weijie Zheng | 660,000 | 0 |
| Wim Anne Wesselink | 650,000 | 0 |
| Samuel Baneham | 385,000 | 0 |
| Jason Tompkins | 295,000 | 0 |
| Jack Hardcastle | 215,000 | 0 |