Simpson Vanishes; Foley Big; Glaser Short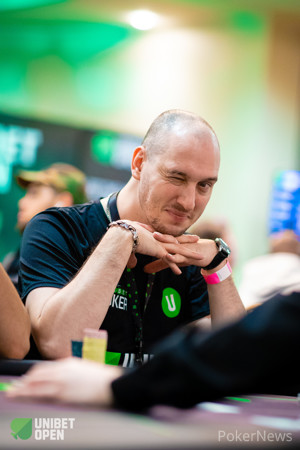 Benny Glaser and Paul Jux Holderness already clashed in the €2,200 High Roller and Glaser won, while his countryman had to settle for third place. Just now, Glaser bet the :::8c:::5c:::4h:::3d turn for 40,000 into a pot of 90,000 and Jux Holderness moved all in for 132,000.
The clock was eventually called on Glaser, who sent his cards into the muck.
Ian Simpson had started the day fourth in chips, but nothing went his way. Sean Foley confirmed that he won the final hand against Simpson in a flip, it was a battle button versus small blind and Foley four-bet with ace-king suited to best the pocket jacks of Simpson.
| | | |
| --- | --- | --- |
| Sean Foley | 480,000 | 363,700 |
| John Farrell | 370,000 | 150,000 |
| Paul Jux Holderness | 265,000 | 75,000 |
| Jack Sinclair | 170,000 | 90,000 |
| Benny Glaser | 105,000 | -75,000 |
| Ian Simpson | 0 | -150,000 |
| Georgios Tavoularis | 0 | -34,700 |
| Mark Rink | 0 | -80,400 |
| Luke Walsh | 0 | -135,200 |
| Bogdan Petrascu | 0 | -115,000 |